Lipoma is a Round or oval-shaped fatty lump that grows just beneath the skin and underlying muscle layer. Lipomas are slow-growing harmless benign soft tissue tumors. They are made of fat, move easily, don't usually cause pain, and can appear anywhere on the body. Usually, lipomas don't require any treatment, but if they are bothering you or causing pain then Lipoma treatment may require.
Most common sites of lipoma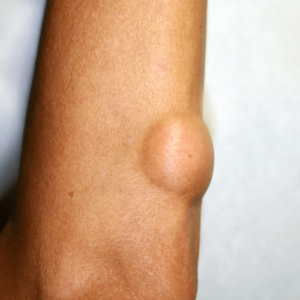 Lipomas can grow anywhere in your body. Rarely, lipomas grow on the muscles, internal organs, or brain.
Most lipomas develop just under the skin on the – Arms or legs, Back, Neck, Shoulders, Trunk (chest and torso), Forehead.
Can a lipoma be cancerous?
Lipomas are benign soft tissue tumors — Grow slowly and are not cancerous.
How common are lipomas?
Lipomas are very common and mostly found in adults. About 1 in every 100 people may have a lipoma. Most often between ages 40 and 60, they can develop at any age and any gender. They can also present at birth in rare chances.
Symptoms of lipoma
Lipomas are usually painless and harmless, but in some conditions, they can cause discomfort to the patient. They are:
Usually painless
Can cause discomfort, if they press against a nerve or develop near a joint
Self-limiting and does not spread to the surrounding tissues
Movable, if you try to move them
Smaller than 2 inches in diameter: In a few cases, lipomas can be larger than 6 inches wide
Causes of lipoma
As per the specialist, the exact causes of lipoma are not known. Hereditary can be the reason in most cases.
Some diseases conditions can cause multiple lipomas to form on the body. Include–
Risk factors
It is common for a person to develop a lipoma. As per the study, about 1% of the population may have lipoma. risk factors for lipoma may include:
Types of lipomas
All lipomas are made of fat. Some contain blood vessels or other tissues. There may be different types of lipomas, such as:
Angiolipoma: This type contains fat and blood vessels. Angiolipomas are often painful.
Conventional: Conventional lipoma is the most common type of lipoma which contains white fat cells. White fat cells store energy.
Fibro-lipoma: This type of lipoma is made up of fat and fibrous tissue.
Hibernoma: This kind of lipoma is made up of brown fat.
Myelolipoma: These lipomas contain fat and tissues that produce blood cells.
Spindle cell: The fat cells in these lipomas are longer than they are wide.
Pleomorphic: These lipomas have fat cells of various sizes and shapes.
How are lipomas diagnosed?
Healthcare providers can diagnose the lipoma –
By physical examination, Oftentimes, these may be mistaken for a cyst.
Ultrasound (USG) scan,
MRI scan or CT scan – These scans help to identify the lipoma's location and to differentiate from cysts.
Biopsy – to differentiate a lipoma from cancer.
Different ways of lipoma treatment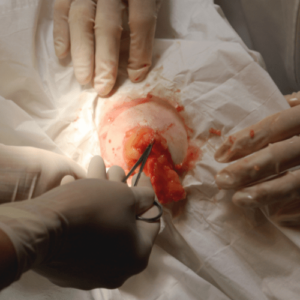 Most lipomas don't need treatment. If they are not causing any problem you can leave them. But, if they are increasing in size or number, then treatment may be needed.
Surgery – If you are getting irritated with lipomas or the size is very large, then your doctor can remove it surgically. A surgeon will typically carry out an excision procedure with you under local anesthesia. But if you have multiple lipomas, then it will be costly as well as can leave many scars and bruises.
Liposuction – It is another alternative for surgery to remove lipoma.
Steroid injections – Steroid injections can be used directly on the lipoma. It will shrink the lipoma, but it is not a permanent solution as it will remove the lipoma, completely.
Can Lipoma be prevented?
No, as most of the time they are inherited and passed down through the families, it is not possible to prevent them.
Can Lipoma be treated without surgery?
Lipoma treatment without surgery is possible with the help of natural remedies like Homeopathic Medicines. Lipoma treatment by homeopathy is possible with well-selected homeopathic medicines.
Homoeopathic lipoma treatment
Homeopathic medicine for lipomas give an effective recovery and there is no need to go in for surgery in Lipoma cases. Well-selected best Homeopathic medicine for lipoma, not only will dissolve the lipoma but the body's tendency to Lipoma formation is also diminished by its root.
Homeopathic treatment for Lipoma always remains constitutional — the constitution is the symptom picture formed by conjoining the mental and physical symptom peculiarities found in each case. An experienced homeopathic doctor can provide lipoma treatment in homeopathy by selecting the right medicine for you.
Following are some of the best homeopathic medicines for lipoma treatment
CALCAREA CARBONICA
This is a constitutional homeopathic medicine for lipoma. Useful for patients who are obese and tend to excessive sweating, especially on the head. There is sensitivity for cold. They like a boiled egg to eat and have an unusual craving for indigestible things like lime and chalk. If symptoms allow, Calcarea carb can dissolve the lipoma completely.
SULPHUR
Just like Calcarea carb, Sulphur is also a great remedy to remove lipoma based on the constitutional symptoms. Sulphur patients are thermally hot and dislike heat. There is great burning and heat in the palm, soles, and head. They must have some skin problems and the skin is dry with itching. They crave sweets. Based on symptoms, Sulphur can be good medicine for Lipoma.
AMMONIUM MURIATICUM
Ammonium muriaticum is an effective homeopathic medicine for lipoma in obese persons. In these patients, the upper part of the body is fat but the legs are thin.
BELLADONNA
Belladonna can be given when the Lipoma is painful. The pain may get worse by touching the lump. It can give relief in a painful condition of lipoma and helps to dissolve them.
BARYTA CARBONICA
Useful for Lipomas, found especially on the neck. There is swelling and induration of the glands.
LAPIS ALBA
lapis is considered a specific medicine for lipoma. There is enlargement and indurations of glands, especially cervical glands. It has certain pliability and elasticity. It will also make sure to stop the formation of new Lipomas.
CALCAREA FLOURICA
It is an effective medicine for lipoma especially when lipomas are hard and stony. It is equally effective in treating other tumors in the body. It will break and dissolve the lipoma into small parts.
PHYTOLACCA DECANDRA
Phytolacca is a great homeopathic remedy for the stony hardness of tumors. This remedy works well on fibrous, and lipomatous tissues. It is also helpful to reduce obesity and excessive fat cells.
THUJA OCCIDENTALIS
Thuja is a wonderful homeopathic medicine to treat any abnormal growth in the body including lipoma. It can easily dissolve fatty tumors and other hard swellings. If a person is having high blood cholesterol levels, the thuja can be a great help to treat lipoma.
CROCUS SATIVUM
Crocus sativum is another remedy for lipoma, especially if you have any lipoma or cyst on your scalp. There is a feeling of prickling and crawling sensation in the skin.
Some other homeopathic medicines for lipoma are Calcarea iod, Conium, Silecea, Kali iod, etc.